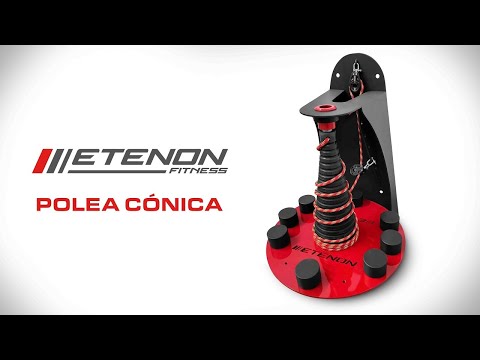 TECHNICAL CHARACTERISTICS
DIMENSIONS AND WEIGHT
The Tapered Pulley uses isoinertial technology.

 

The structural base involves flywheels or inertia wheels. When we apply force in the concentric phase, the machine stores the generated kinetic energy in different ways. It is returned in the eccentric phase and the user must stop this inertia.
The benefits of using isoinertial systems to reinforce the eccentric phase are:

Strengthened connective tissue.
Increased muscle breakdown threshold.
Increased tendon strength.
Rehabilitation and prevention of tendinopathies.
Hamstring reinforcement in soccer players.
Improved maximum voluntary contraction./li>

The cone is made of PE (polyethylene) with 7 positions, that is, 7 possible speeds in the change from concentric to eccentric.
It has 12 weights of approx. 1 kg. each which are easily interchangeable

 

Option to adapt rotary encoder.

 

Does not include handles or anklets.

 
Length: 43 cm.
Width: 46 cm.
Height: 60 cm.