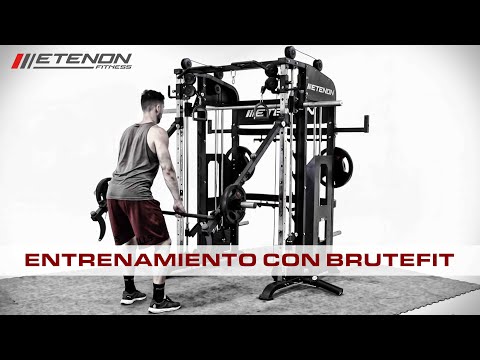 TECHNICAL CHARACTERISTICS
DIMENSIONS AND WEIGHT
Brute Fit is a very complete machine in which you can perform endless exercises to strengthen the whole body, thanks to its mobile arms, its platform to support the feet and the two height-adjustable pulleys.
In this versatile machine, you can perform exercises such as squats, chin-ups, rowing or deadlifts. If complemented with a bench, it can also be used as a press and perform pectoral or glute exercises, for example.
It is a very versatile option for your weight area.
It includes:
Rope grip for triceps.
Stirrup grip.
Pull-up bar.
Safety support for squats.
Length: 180 cm.
Width: 219 cm.
Height: 227 cm.
Machine weight: 424 kg.
Total weight: 624 kg.
Total plate load: 200 kg.(100 kg. en each tower).